My husband knows I love wearing wristwatch not because of fashion but because I feel the need to wear it so I won't be late sending Faith to school. He knows that without wearing a wristwatch I would surely be late in any appointment including of sending the youngest to school. Since our wedding anniversary is this month, he bought us a match wristwatch, one for him and one for me and both have the same style and color, isn't it cute? We planned to wear it today since today is our Wedding Anniversary but when I inquire the restaurant that we would like for dinner, they inform us that they have function for today and so the restaurant is not available. We choose to just stay at home with the kids though and ordered some fried chickens and burgers in McDonalds.
This is the box of our new wristwatch, I always want to ask my husband where did he bought this but I am sure he would tell me I should not ask where or how much if a certain thing is a gift.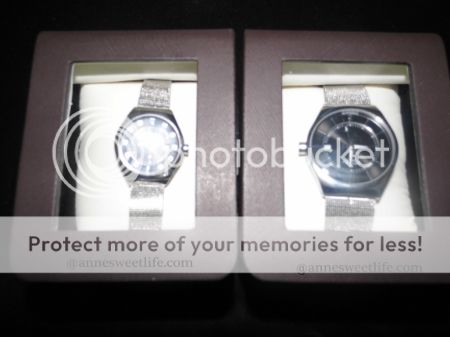 Tsaaraann! Yes this is the match wristwatch I had been telling about, it is not that fancy at all, in fact it is very simple. But I so love it since we could wear the same wristwatch together.