Browsing Category: "Watches"
It was about Christmas that I was planning what gifts I will buy for the kids. After a week of thinking, I was able to come up with an idea, I bought them watches.
One of the parents in Kumon whom I was able to befriend with, offered me a G-shock watch, I thought to buy the same brand for Faith but they are all so big for her. Thus, I decided to just buy one for MJ and supposedly sketcher for Faith but when I checked it in SM, the straps are all so big. There's one but was Mossimo and there's only one that is available, the one on display. I don't have to choice but to buy it. So here are the watches I bought for them last Christmas.
My husband knows I love wearing wristwatch not because of fashion but because I feel the need to wear it so I won't be late sending Faith to school. He knows that without wearing a wristwatch I would surely be late in any appointment including of sending the youngest to school. Since our wedding anniversary is this month, he bought us a match wristwatch, one for him and one for me and both have the same style and color, isn't it cute? We planned to wear it today since today is our Wedding Anniversary but when I inquire the restaurant that we would like for dinner, they inform us that they have function for today and so the restaurant is not available. We choose to just stay at home with the kids though and ordered some fried chickens and burgers in McDonalds.
This is the box of our new wristwatch, I always want to ask my husband where did he bought this but I am sure he would tell me I should not ask where or how much if a certain thing is a gift.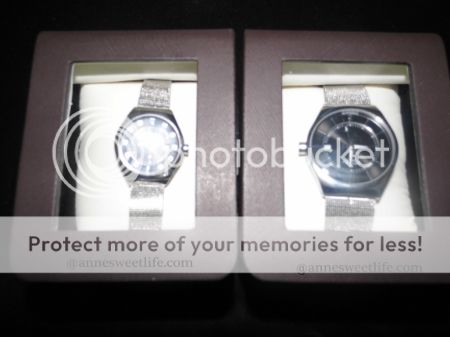 Tsaaraann! Yes this is the match wristwatch I had been telling about, it is not that fancy at all, in fact it is very simple. But I so love it since we could wear the same wristwatch together.
My husband bought me a new wrist watch last June when he was here. I really wanted to have a wrist watch that doesn't give up easily, the one that I bought since it is very cheap. It was damaged right away after a month of using it. Now my husband surprised me with another wrist watch again, this time it is a match. There's a bigger wrist watch that is for him and a small one that is for me and we will be wearing it at the same time on a special occasion, maybe on our wedding anniversary, which will happen very soon. I am so excited to wear the wristwatch with a match of his wristwatch. My husband is really making up for me and the kids for a long absence, maybe nearly 3 years that we were separated by continents and seas now he is with us here finally although he still have to go back to the states for next month for another eye check-up and varicose veins laser operation.
I am so disappointed when I learned that the Sketchers Wrist Watch of Mj is lost. The last time I've seen her wore the wrist watch was during her recital and then after that, I didn't saw her wearing the wrist watch anymore. We tried to look for it the entire house but to my dismay, the wrist watch didn't show up. I even helped looking the next day after I work but we still did not find it. I am so tired and disappointed, Mj keeps on telling me that she just put it in the pocket of the cover of our refrigerator but after like days she could not find it there. It was a gift from me and her Daddy last Christmas and now we could not find it at all. Who took it? I don't know nor did she really place it on the washing machine? I don't know as well.