Browsing Category: "Shoes"
When I and Faith went to the mall to buy her school shoes, I was thinking to buy her the top brand so not to be easily damaged. Last year, she always has her shoes busted so we end up buying her a new one four times.
I was planning to buy her Bandolino or GIBI but geez they are so expensive. My second option was Barbie but Faith doesn't like girl stuffs. She choose another pair, it was the Alex brand, it looks like it is durable but who knows right? Some shoes looks so durable but it only lasted for 2 days. I was really wondering with this brand. I haven't heard of such. But Faith likes it so we bought it and besides it is very affordable. While Barbie cost thousand bucks this one cost only half of it. When we got home, I saw the mark says its genuine leather. I told my sister about it and she said it is the durable Alex brand. I got lucky since I only bought it half the original price.
It was last month that my eldest daughter asked me something that if I would not stick to my promise I am sure I will disappoint her big time. Yes, I made a promise to her last February that if she will do good with her studies, whatever she will ask, I will give it to her. I thought that the price was enough  for me to buy something else, or spend it to something we need but it had to be sacrificed because it wrecked my budget for entire week that I have to wait for my payout again for the next two weeks.
Nonetheless, I heard a lot of good stuffs about Vans, the feeling of being so comfortable when you are wearing it,  except the color especially if you choose "White", it obviously got stained easily and oh please do not put chlorine on it when you decided to wash it because it stained more. My daughter does it and she felt sorry in the end.
I told her to choose any color but White, oh well she said that you can pair it with different clothes and later she was like saying "Yeah, you are right Mom".
Moreover, the quality is worth it, I hope and it will stay long as expected. I mean, the price for me is not fun at all especially with a Budgeted Mom like yours truly, it should last long otherwise it will frustrate me big time.
On the other hand, I have faith with the reviews I read with Vans and I have faith with my daughter so I am sure with the pair of rubber shoes we bought, I am sure the quality is totally awesome!
My eldest daughter always bothering me to buy her this branded pair of shoes but when I checked of the price, it reached to my neck and there's no way I can afford it.
We went to the thrifty mart one night and she found some branded shoes she likes, she picked it up and asked me to buy it for her and for her sister. It was so affordable and knowing that it was the brand she likes, I bought it right away.
The place is jam-packed with all stuffs you wanted to have, if you are in a tight budget and you wanted to buy some things new, you might want to visit the place.
Here are the shoes we bought from the thrift mart in Roxas.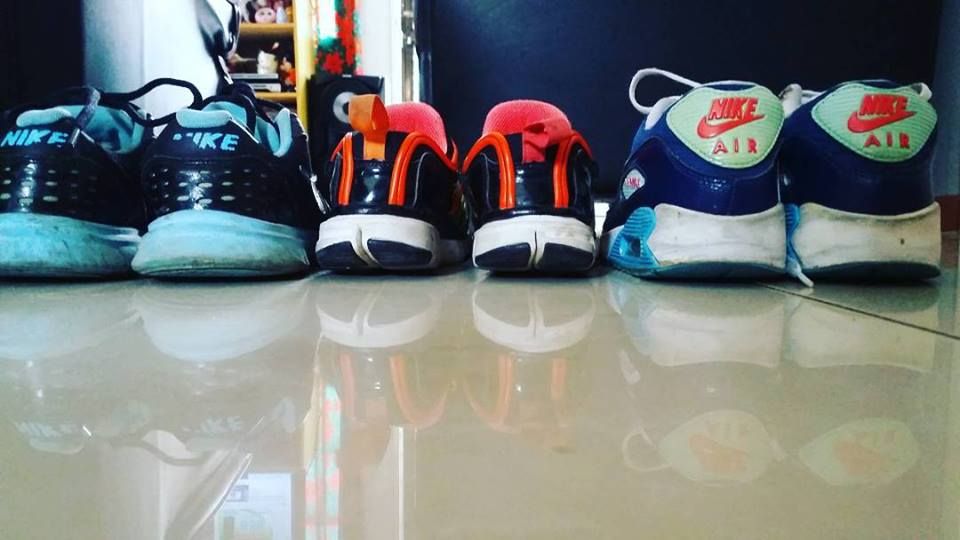 Are you tired of that extra ten, twenty or more pounds and extra inches you've been carrying around? Take the pledge today to make your health and well-being a priority. Get off the couch and commit to a healthy life style. Forget dieting, dangerous pills, or insanity workouts.  The professionals overwhelmingly recommend a slow, steady approach to life style changes. Anything that is developed gradually has a greater chance of evolving into a habit – a healthy lifelong habit.
Setting goals is one of the first steps to success. Most professionals agree that smaller, incremental goals are more realistic and attainable than larger, long term goals.  The unfortunate reality is that we've become more and more accustomed to immediate gratification.  Recognizing that, realistic goals for someone that has generally been sedentary, would be a commitment to walk twenty minutes five days a week for two weeks. Use a Groupon coupon and head to Skechers for a great selection of walking and running shoes. If you're not inclined to join a gym, walk around your neighborhood in the morning or evening, or walk the parking lot of your office building during lunch.  When the weather isn't in your favor, head to one of the big box store and do laps on the peripheral!
A second goal during this same time span might be to eliminate dessert or soda from the diet. Take it just one say at a time. Congratulate yourself at the end of each day that you've done it! Don't beat yourself up if you slip up or miss a walk, just get back in the groove the same day. Taking these two small steps will result in serious changes to your body and metabolism. You'll have more energy. You'll sleep better. Your skin will begin to have a deeper color (it's getting more oxygen!). You'll also begin to feel more muscles in your legs, thighs and hips. You'll begin to see a difference on the scale and how your clothes fit.  Set new goals with new bars every two weeks.  You'll never return to that couch with unhealthy food choice once you experience the highs of healthy eating and living. Congratulations to you!